Home

/

Supergrips for SW22 Victory
Supergrips for SW22 Victory
Stock Code:
TK0923N0120BLK1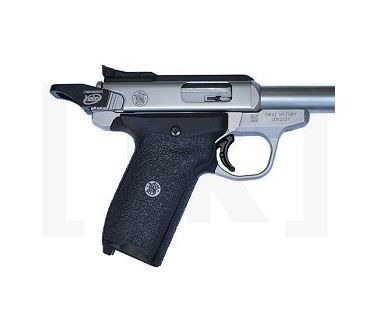 Need SW22® Victory™ grips? Whether it's sweat, rain, gloves, or you just want a better feeling grip on your Smith and Wesson SW22® Victory™, look no further than the TANDEMKROSS SuperGrips!

. Improves pistol control and feel

. Lightweight, does not add bulk

. Easy installation

Smith and Wesson Victory pistol is quickly growing in popularity among rimfire competition shooters and recreational shooters alike. However, the rounded factory SW22 grips can make controlling the pistol a challenge for shooters dealing with rain, sweat or gloves, particularly in rimfire challenge and other speed shooting competitions.


The TANDEMKROSS SuperGrips for SW22® Victory™ are manufactured from a textured rubber material to help maintain control of your pistol- without drastically changing the grip thickness or shape of the SW22® Victory™ grip frame. The lightweight SW22 grips cover the full grip surface of the pistol, and have a slightly stippled and tacky feel to provide the most non-slip retention, regardless of moisture.


SuperGrips are easy to install: simply peel the backing material and wrap the SuperGrips around the front of the grip frame and around each side. SuperGrips can be removed and repositioned on the firearm without leaving any sticky residue or damaging the gun. Although originally developed for Law Enforcement, you can have the same grip control throughout multiple shots with the TANDEMKROSS SW22® Victory™ SuperGrips today!